19/10/2023
Papinelle x Karen Walker
We sat down with designer Karen Walker ahead of the fifth Papinelle x Karen Walker collaboration and asked her those all important questions...

(Right to Left: Karen Walker with papinelle co-founder Nikki Kelly)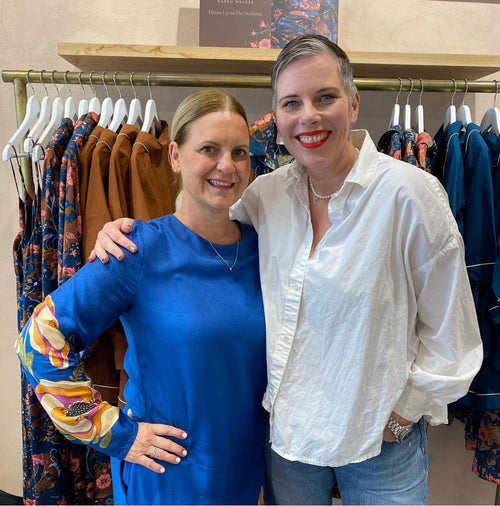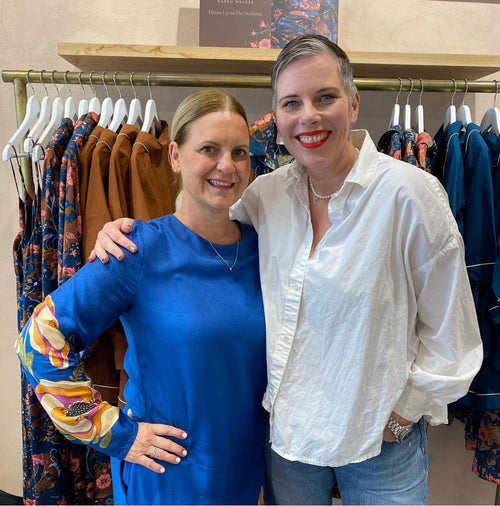 Tea – Storm & India's Imperial Earl Grey is my go-to with four or five pots a day being my usual.
What item of clothing could you not live without?
Classic white cotton shirts
What inspired you to become a designer?
The desire to have a career that brought me pleasure every day
What's your favourite piece from this collaboration?
The long silk PJs, for sure. I always get a couple of sets of silks from our collabs and find them so great to lounge and sleep in.
What's the most worn item in your wardrobe?
What's the one thing you can't leave the house without?
What's your favourite way to relax?
Small problem solving tasks – cryptic crosswords and jigsaw puzzles usually. Yoga, dog-walking and meditation close seconds.
How do you deal with creative block?
Get some oxygen in the blood with a big dog-walk or yoga class; turn off the social media and visit an art gallery.
What's your favourite place in the world?
What's the best piece of advice you've ever received?
Only work with people who get it.
Shop Papinelle x Karen Walker
Select size to add to cart

Select size to add to cart

Select size to add to cart

Select size to add to cart

Select size to add to cart